The lucky penny
Relax with one of our handcrafted cocktails, a glass of local wine, or a cold draft beer. Savor truly fresh pub fare: fish and chips, handmade burgers, salads and more. Enjoy indoor or outdoor (pooch-friendly) patio seating, plus live music and dancing most Saturday nights!
So please come EAT, DRINK, and DANCE with us!
Come see us!
M Closed
T Closed
W-Th 11:30am - 8p
F-S 11:30am – 12a
Su 11:30am – 8p
75 Big Trees Rd
Murphys, CA 95247
(209) 890-3122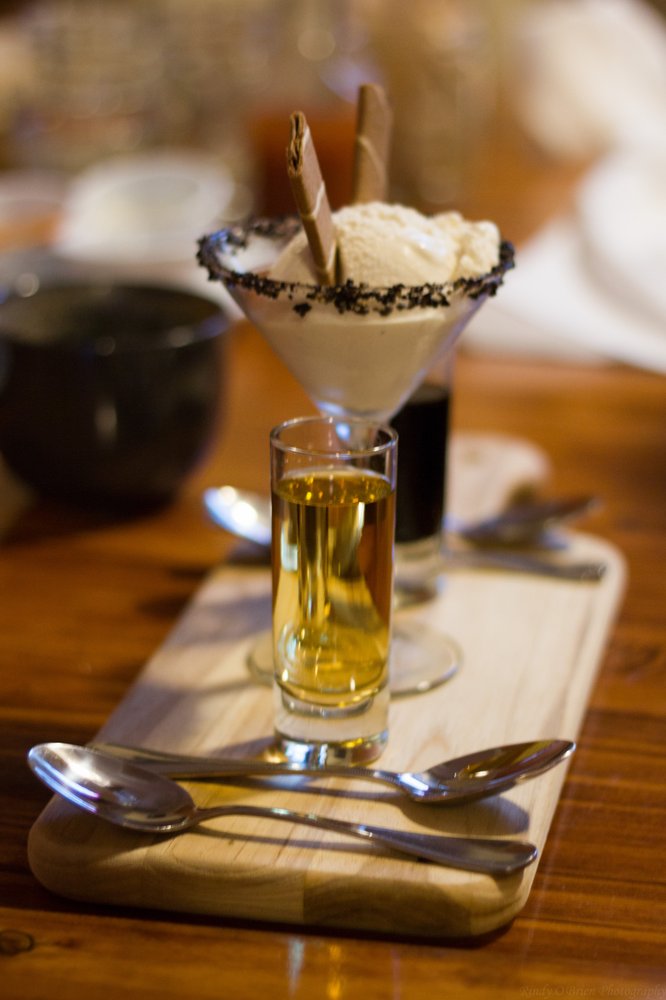 Chicken Wings
Buffalo or Daily Housemade Sauce
Pub Fries and Housemade Aioli
Rosemary, Garlic, Housemade Ketchup and Watercress Aioli
Stout Lacquered Bacon
Pickled Dates, Blue Cheese
Cauliflower Ceviche
Avocado, Lime, Red Onion, Tomato, Cilantro, Jalapeño, Fresh Corn Chips
Smoked Bacon Crab Cakes
Lemon Parsley Tartar, Daikon Radish
Tempura Fried Pickles
Dill Spears, Spicy Ranch
Rosemary Garlic Chicken Caesar
Hearts of Romaine, Caper Garlic Dressing, Crutons, Parmesan, Anchovy Garnish
Beet, Grapefruit and Goat Cheese
Mixed Greens, Caramel Dressing, Chevre Goat Cheese, Penny Dirt (contains nuts)
Pub Salad
Local greens, Hearts of Palm, Pickled Baby Carrots, Feta, Herb Dressing
Chickpea burger
Tahini Mint Sauce, Cucumber and Feta Yogurt Salad, Wild Arugula
Garlic Chicken Burger
House Made Ground Chicken Patty, Melted Wisconsin Swiss, Applewood Smoked Bacon, Russian Dressing, Arugula
Pub Burger
Hand-formed 1/2 lb Beef Patty, White Cheddar, Arugula, Tomato Jam, Bacon Mayo
Fish and Chips
Tempura Battered Haddock, Lemon Parsley Tarter, Cole Slaw, and Fries
Crab Mac and Cheese
Jumbo Lump Crab, Aged White Cheddar, Shell Pasta, House Made Herb Oil, Bread Crumbs
BLT
Applewood Smoked Bacon, Tomato, Romaine, Chipotle Aioli, Sourdough Bread
Chicken Tenders and Fries
Fried Chicken Tenders, Plain French Fries
Cheeseburger and Fries
Beef Burger, American Cheese, Plain French Fries
Mac & Cheese
Cheddar Cheese, Seashell Pasta
Fishies & Chippies
Smaller portion of our house specialty
Espresso Penny Affogato
JoMa's Vanilla Ice Cream, Espresso, Frangelico, Penny Dirt (Contains nuts and alcohol)
Daily creations of something sweet
#sweetandfruity
Golden Delicious
Apple Crown, Cover's Cider, Lime Juice, Vanilla Sugar, Goldschlager
#sweetandfruity
#tartandfresh
Copper Penny
Jameson, Ginger Elixir, Fresh Lime Juice, Lemon Thyme
#tartandfresh
#sweetandtart
Lemon Pomegranate Drop
Ketel One Citroen, Pomegranate Juice, Simple Syrup, Fresh Lemon Juice, Sugared Rim
#sweetandtart
#spicybacon
Mad Mary & Her 3 Little Pigs
House Made Bloody Mary and Pickled Vegetables, Bacon Three Ways
#spicybacon
#floraldelight
Gin Rush
Bombay Dry Gin, Apple Brandy, Vanilla Simple, Egg White, Lavender Bitters
#floraldelight
#greenrefreshment
Green Penny
Stoli Vodka, Muddled Cucumber, Fresh Lime Juice, Crushed Mint, Ginger Elixir
#greenrefreshment
#margaritaupgrade
Mexican Flower
Cazadores Reposado, St. Germain, Fresh Lime Juice, Toasted Coriander, Collins Splash, Tarragon
#margaritaupgrade
#niceandeasy
Blueberry Thai Mojito
Bacardi Rum, Whole Blueberries, Thai Basil, Fresh Lime Juice
#niceandeasy
#adultfrozengoodness
POPtails!
Summer refreshment perfected – our housemade fresh fruit and spirit popsicles paired and presented in your favorite cocktail.
#adultfrozengoodness
Local wines and beers available too!
We <3 Local music
The Sierra foothills are blessed with an amazing community of local musicians. We are very fortunate to host many of them.
Wanna Play at The Penny?
And if you're a musician or in a band and would like to PLAY at The Penny just let us know!
Just a few of our favorite Sierra Foothills bands that have played at The Penny!
A few wonderful Murphys homegrown products that we love and feature regularly in our menus